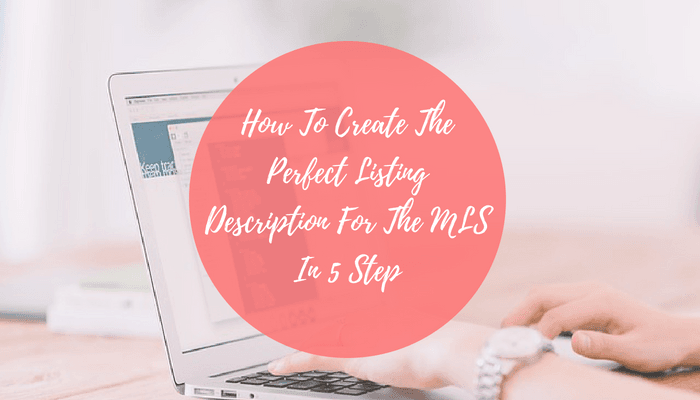 Nobody loves to sit down and write another real estate listing description.
If you are like most real estate agents, writing compelling, effective sales copy for your real estate listings is one of the most annoying and painful parts of your job. Trying to overcompensate for an inflated sales price, making a low square footage seem livable, crafting an attention-grabbing opening statement that not just attracts buyers but stops them in their tracks are just a few of the common challenges you could be facing when writing a real estate listing description.
Oh, and don't forget to find that perfect CTA that gets agents and potential buyers to pick up the phone and book a showing immediately!
Even if you love to write, creating listing descriptions for the MLS can be boring and challenging. After all, how many ways can you possibly describe a listing?!
If you can't afford to hire me to write your listing descriptions for you, don't worry because this post will help you generate perfect listing descriptions every time.
Step 1. Highlight The Property's Best Selling Features
When you take a listing, you are signing up to sell someone else's product (the house).
As you know, when you go to sell anything, you have to be able to first identify that product's most sellable features and be able to translate those home features to potential buyers.
Real estate marketing (especially when we are talking about listings) is no different.
Think about the best selling features of the property before you start writing and make them the focus. Even if they are not obvious, it is your job to sniff out the perks whether they be size, architecture, investment potential, age, etc..
Then think about the potential pool of buyers that are most likely to be interested in making an offer on a property that has those unique home features. That will tell you a lot about your ad targeting.
Even if your listing is a total dump, there are some benefits that you can draw out to highlight in the listing description that aren't otherwise obvious. That is your job as the listing agent.
Step 2. Avoid Your Instincts To Describe The Property In Detail
One of the most common mistakes that I see every day with listing descriptions is that they give a lame summary of everything that is in the listing details.
There is literally no fucking point in saying the same thing in the listing description that is in the summary at the top.
For example, the MLS description already says how many bedrooms and bathrooms the house contains so you don't need to drone on and on in the copy about how many bedrooms and bathrooms there are. It is a waste of space, time, and attention.
Instead of just restating the number of bedrooms or spending too much time talking about features like hardwood floors or stainless steel appliances give more descriptive details of the benefits that each room offers.
Step 3. Select Strategic Emotions
When sitting down to write your next real estate description, make sure you remember to include strategic emotions.
Emotions are the active ingredient in any piece of effective sales copy.
That does not mean that you have to explicitly use the names of the emotions right within the content. Instead, you should brainstorm the emotions that you want to invoke in the reader.
Fear is one of the most powerful emotions to leverage in order to force people to take action.
Let's say you wanted to play off of people's fears with a hurricane-proof waterfront listing in the tropics. You can talk about how safe and secure they will feel knowing that their home has had the most modern upgrades to protect the property in the event of a storm.
The most effective and creative listing descriptions don't just use descriptive words to describe the listing but to really capture the emotional epicenter of the reader and drive them to follow any call to action.
Step 4. Welcome Them To The Neighborhood
Everyone knows that location is a major factor for people when they are searching for their perfect home.
Do not make the mistake of failing to talk about the location and the neighborhood. Not only will talking about the location help boost the SEO of the listing description, it gives a clearer picture of the lifestyle that comes with the home.
Remember, you're selling a lifestyle more than you are selling a brick-and-mortar property.
Make sure that you include nearby attractions, proximity to nearby cities, and anything else that could be a selling point to living in that house.
Step 5. Toss Out The Cliche Words
When you write your property descriptions, please don't use lame cliche words. You know it doesn't paint you in the best light to your clients or anyone else when you take that easy way out.
Don't think for a minute that your clients haven't seen a thousand other listing descriptions before and won't recognize the lack of effort you put in when you describe their cottage as "charming".
There are plenty of other words out there to use other than "quaint" and "charming" and you are more than capable of using them.
Key Takeaways:



Highlight the most sellable home features of the property




Consider the pool of buyers those features are most likely to attract




Describe the lifestyle




Don't forget to talk about the neighborhood




Skip cliche words that don't paint you in a positive light to other potential listing clients



Love Listing Properties But Dread Writing The Property Descriptions For The MLS?
Writing creative real estate listing descriptions that win both buyers and sellers is one of the most frustrating and time-consuming tasks of taking a listing.
But it doesn't have to be that way.
Keep reading to learn about my professional real estate property writing services designed to position you as an elite listing agent.
Real Estate Property Description Writing Services
In today's competitive real estate market, listing agents need more than just quality photos. For a property to sell fast, the right people need to see it and feel it.
The home's written description plays a major role in attracting the right visitors.
One thing separating the most successful listing agents in the world is the understanding that a home is not just a home, it's an experience.
This type of experience is the result of many details and nuances that can't be captured in pictures alone.
It's unrealistic for even experienced listing agents to have the time and expertise to craft engaging SEO and psychological property descriptions that will maximize the number of people seeing their listings, leading to more successful sales.
That is why my professional real estate descriptions are so valuable---they get your listings showing up higher in web search results thereby creating more traffic to your listings both on- and offline.
Lightning Fast Turnaround Time
When you get a new listing it is crucial that you start your relationship off on the right foot by getting all of the marketing materials like the virtual tour done and MLS description written so you can get the home on the market.
Therefore, I place the highest priority on fulfilling orders for MLS descriptions.
Most MLS descriptions are completed within 1-2 days but rush orders are available for same-day orders as needed for an additional fee.
Get Back To Closing Deals
If you are anything like most listing agents, you either spend hours agonizing over the pain-in-the-ass task of writing a compelling property description or you quickly throw it together without ever expecting it to move the needle for you.
Just like you outsource the photos to a professional photographer to get the best result in the least amount of time, you should outsource your MLS property descriptions to a professional writer.
Create Your Competitive Edge
My professional property descriptions provide the final touches that will get your listing noticed by real estate agents and home buyers alike.
With just a few key details from you, I meticulously craft every word to be search engine optimized and psychologically compelling to buyers.
Ditch Those Boring Cliches
For too long, real estate agents have written home descriptions that are hard-hitting and to the point while being littered with cliches.
This style may work for some, but it is also quite cold and boring and will very rarely get you to the closing table.
Writing engaging descriptions that appeal to emotion is far more important than simply listing out facts about a property. Your sellers deserve to have a description of their property that will get people visiting the property even if they didn't originally intend to buy right now.
My MLS property descriptions focus on finding the special nuances and communicating them to potential home buyers. Each and every description blends the best of content marketing and copywriting techniques with proven real estate SEO strategies so real estate agents can get their listings to the top of search.